Curators of Cutting-Edge Technology Solutions
Our people and the services we provide define our firm. We take pride in delivering a first class client experience.
Who We Are
Graytek was started by James and Caroline Gray in 2003. James brought expertise in business, technology and construction, and Caroline in finance and business management.

Although this initial team was small, together they developed the business, completed increasingly complex projects and earned a great reputation.

Building the company from the ground up, James and Caroline were able to define and establish Graytek's mission and values and build on this strong foundation - always striving to move forward with integrity, and exceeding customers' expectations - for all projects, big or small.

Graytek today has a strong team of over fourteen individuals with expertise in key areas of the business - design, production and programming. They now work out of a 5,000 square-foot Design and Production Centre, with the ability to demonstrate how Graytek offers real life solutions that have been tried and tested.

Graytek is a Control4 dealer with over 18 industry awards recognizing their projects as best in class in North America, and now works on some of the largest homes in the Vancouver and North Vancouver area.
Our Mission
Our mission is to be a successful business that serves our North Vancouver, BC Customers, Employees and the Community in which we live and work with integrity and passion. We are committed to doing this by living out the values that we believe in.

We will serve
our customers by always going above and beyond expectations
our employees by providing jobs that are engaging, challenging and fulfilling
our community by supporting involvement of our employees and their families
As a smart home automation and home theatre company we are committed to these values, which if upheld, will enable us to fulfill our mission.
People first
Respect everyone we work with
Provide value but never sacrifice quality
We do what we say
Always do the right thing
Move forward with creativity, passion and excellence
James Gray
James started Graytek in 2003 and continues to drive the development of the company with his intimate knowledge of the industry, technical expertise and experience, and solution oriented approach. Graytek has won 18 International CEDIA Awards for their projects over the years. As well Graytek was recognized as the 2012 Tri-Cities Chamber of Commerce Business of the Year (10-50 Employees).

Now celebrating their 18th year in delivering award winning home technology solutions, James continues to focus on moving Graytek forward. Supported by an amazing group of talent and experience, James is driven daily to improve and lead the company into the next decade of growth. Being consistently focused on the customer experience is a large part of Graytek' s success this past 17+ years and will continue to remain the cornerstone of this company.

For over 10 years now James has been active in coaching local minor hockey association teams. He also enjoys downhill mountain biking, skiing and of course listening to music as often as possible on high quality playback systems.
Caroline Gray
Caroline has spent her professional career as a CPA both building Graytek as well as working with other privately held businesses as CFO. Beginning her career with PricewaterhouseCoopers, Caroline has had the opportunity to work with many businesses and their owners to learn and participate in financing, reporting, restructuring, and strategic planning. Caroline is passionate about bringing this experience to support James in the continued growth and development of Graytek - providing ideas on how to keep improving the way we do things and how we can better serve our clients.
Industry Memberships
HVAN Member - Home Builders Association of Vancouver

Technical Safety BC Partner
Award Gallery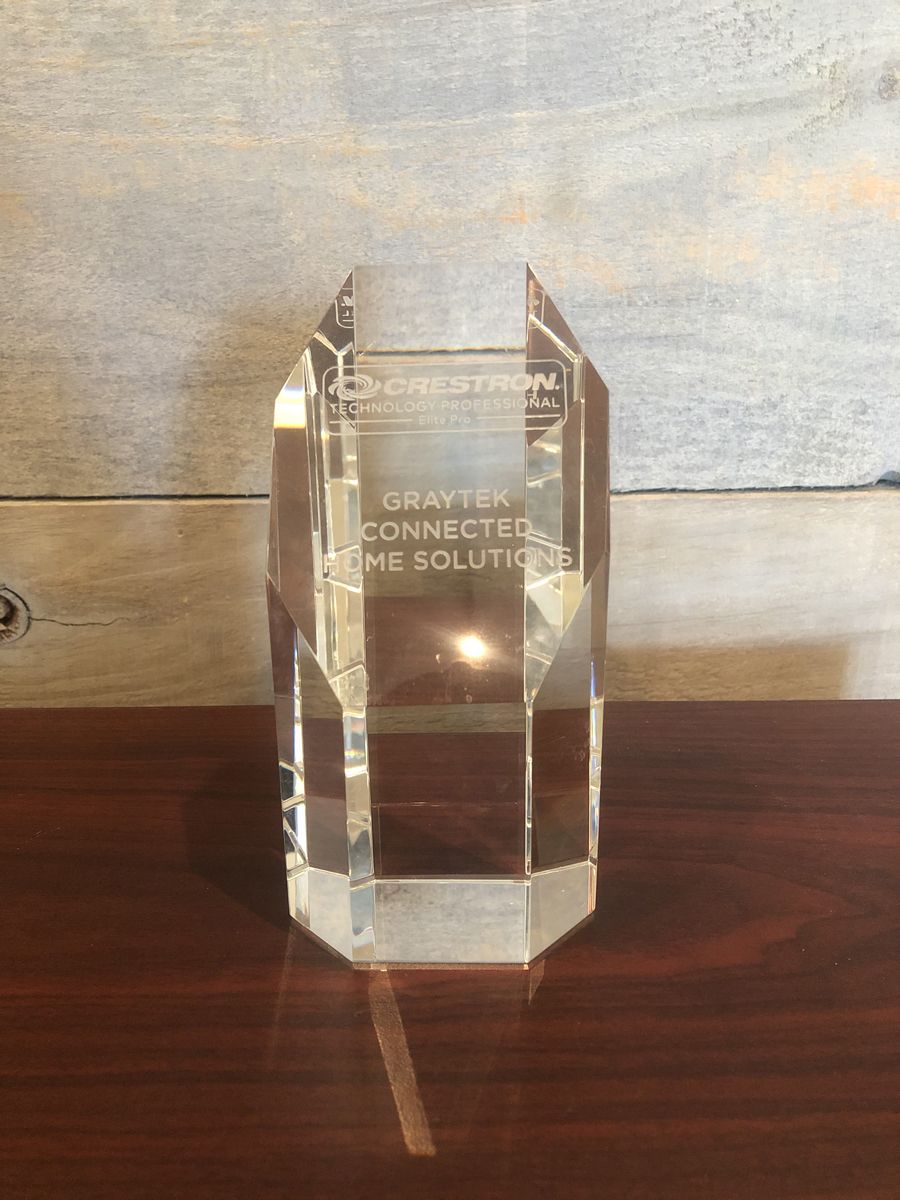 Crestron Distinctions
Elite Technology Professional 2019

Elite Pro Technology Professional 2018

Elite Crestron Technology Professional 2016
Tri cities chamber of commerce
business of the year (10-50 employees) 2012
Greater Vancouver home builders association
ovation awards, excellence in technological innovation in residential construction 2015
Georgie Awards
Best Condo Renovation over $250,000

On A Clear Day

Maison d'etre design-build inc.

Associate: Graytek, 2017
CEDIA Awards
Best Integrated Home, Level 1, $200,000 & Under, Winner Americas 2020

best media room, level 3, Finalist Americas 2017

Best Integrated Home, Level 1, $200,000 & Under, Finalist 2016

Best Integrated Home, Level 3, $450,000 & Over, Finalist 2016

Best Integrated Home, Level 2, $200,000 - $450,000, Winner 2016

Best Technical Design Integrate Home, Level 3, $125,001 - $250,000, Gold 2014

Best Technical Design Integrate Home, Level 3, $125,001 - $250,000, Gold 2014

Best Integrated Home 2014

Best Technical Design Integrate Home,Level 2, $101,000 - $170,000, Bronze 2013

Best Integrated Home 2013

Best Technical Design Integrate Home, Level 5, $326,000-$760,000, Gold 2013

Best Technical Design Integrate Home, Level 2, $180,000 - $245,000, Gold 2012

Best Technical Design Integrate Home, Level 1, $59,000-$140,000, Silver 2012

Best Technical Design Integrate Home, Level 2, $180,000 - $245,000, Bronze 2012

Best Technical Design Integrate Home, Level 4, $501,000-$600,000, Gold 2009

Best Technical Design Large Home Theatre, Level 5, $291,000 - $390,000, Gold 2009
Ovation Awards
Winner

Teragon Developments & Construction Inc with Graytek

Excellence in building Science Innovation in Residential Construction

coal Harbour Modern, 2019

Finalist

Kemp Construction Management Ltd. With Graytek

Best Custom Home: Under $1 Million

Boundary Bay Beachside, 2019

Winner / Finalist

Werner Construction with Graytek

Best Custom Home: Over $5 Million

UBC Private Residence, 2018

Winner

Best Builders LTD with Graytek

Best Custom Home: $3 Million to Under $5 Million

Best Outdoor Living Space: Custom Or Renovated

Above It All, 2018

Associate Finalist

Maisone D'etre Design-Build Inc with Graytek

Best Renovated Room

Elemental, 2017

Finalist

Graytek Solutions with Teragon Developments & construction

Recognizing excellence for: Excelence in Building Science in Residential Construction

The Woodward, 2016

Finalist

Graytek solutions with Shakespeare homes & Renovation inc and Sensitive Design

Recognizing excellence for: Excellence in Building Science in Residential Construction

Viewpoint, 2016

Winner

Graytek solutions

Excellence in Technological Innovation in Residential Construction

The Mayfair, 2016

Finalist

Graytek Solutions with Best builders

recognizing excellence for excellence in building science in residential construction

Nature's Best, 2016

Finalist

Graytek Solutions

Recognizing excellence for Excellence in Technological Innovation in Residential Construction

The Mayfair, 2015